Please note that OCTOVA is now closed to recruitment.
Why is this trial being done?
We are always trying to find ways of improving treatment outcomes for women with ovarian cancer, a disease which affects around 7000 women every year in the UK. This trial will assess patients to see if their tumours will shrink in response to one of three possible treatments:
a) Standard chemotherapy (paclitaxel)
b) An oral treatment called olaparib
c) A combination of olaparib and another oral agent, cediranib.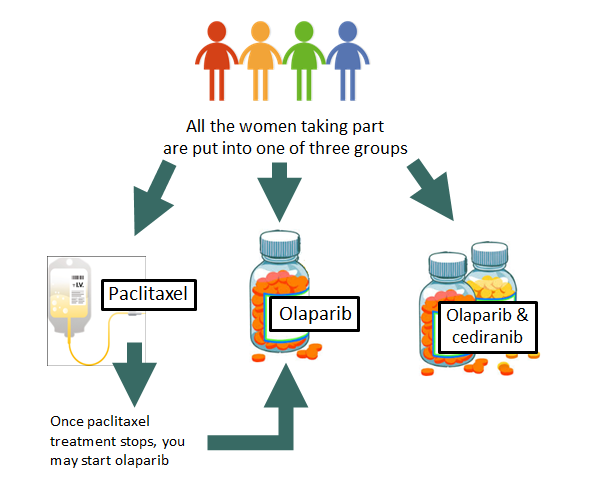 In this trial we want to compare the effectiveness and tolerability of olaparib with standard chemotherapy. We also want to determine if the combination of cediranib and olaparib is more effective than olaparib alone, and whether there are any side effects of this combined treatment. Participants receiving paclitaxel may begin olaparib treatment once they are no longer benefiting from paclitaxel and their treatment has finished.
Do I have to take part?
No, it is up to you to decide and participation in the trial is entirely voluntary. You are free to withdraw from the trial at any time and without giving a reason. This will not in any way affect any future care you receive from your medical and nursing team.
What visits will I need if I took part in the trial?
During your treatment you would have to attend the following visits:
Treatment month 1: Clinic visits once a week
Treatment month 2 and 3: Clinic visits every two weeks
After three months: Clinic visits every four weeks
What would taking part involve?
You will first be asked to attend a screening visit. At this visit your trial doctor will review this information sheet with you and talk you through what will happen in the trial. You will have the opportunity to ask questions and decide whether or not you wish to participate in this trial. If you decide that you would like to take part, we will ask you to sign a consent form. You will be given a copy of that consent form to keep along with this information sheet.
After you have signed the consent form you will undergo some tests and evaluations to determine if you are suitable for this trial. These tests and evaluations are important to ensure that it is safe for you to be included in the trial. These will include an ECG, measurement of your blood pressure, an echocardiogram (echo), CT or MRI scans and blood tests. Some of these procedures are part of regular cancer care and may be done even if you do not join the trial. If you have had some of them performed recently, they may not need to be repeated. This will be up to your trial doctor.
If the results of these screening tests are satisfactory we will then register you with the OCTOVA trial office in Oxford. The trials office will use a computer to randomly allocate you (like selecting one of three straws) to a specific treatment schedule – standard chemotherapy, olaparib tablet or olaparib and cediranib tablets.
If you are allocated to a tablet treatment, you will be given a treatment diary card that will tell you what treatment you will have on each day and will help remind you when to take your tablets. We will ask you to complete this every time you take your medication, and bring it with you to each trial visit.
The total amount of time that you will remain on the trial will depend on the trial treatment you are allocated to, and the amount of benefit you gain from treatment and the types of side effects you may have.
You will continue taking the trial treatment(s) until your trial doctor feels that they are no longer of benefit to you. This would be the case if scans show your cancer has worsened or if the side-effects of treatment are not tolerable and it is no longer safe for you to continue.
If you are assigned to paclitaxel treatment and your disease worsens, you will be offered the opportunity to receive olaparib treatment instead.
After receiving trial drug for 18 months, your visits will be become less frequent and you will attend hospital clinics in line with standard of care. We will still want to collect details about any side effects you may experience and any admissions to hospital.
If your cancer worsens or you choose to stop treatment on the trial, then you will be asked to attend a final visit. If you are still taking the trial drugs at the time of the decision to stop, you will be asked to attend for an additional visit 28 days after your last dose of trial drug.
What exactly is the medication being used?
Paclitaxel is a chemotherapy drug. It also known by its original brand name, Taxol. The drug is made from the needles of a particular type of yew tree. It works by stopping cancer cells separating into two new cells, so it blocks the growth of the cancer. It is a standard treatment for various types of cancer, including ovarian cancer.
Your body naturally produces a protein called PARP (Poly-(ADP-ribose)-polymerase). When the cancer cells in your body are damaged or injured by radiation and certain types of cancer drugs, PARP may help them to recover and then the treatments may not work so well. Olaparib is designed to stop the action of PARP. This may prevent the cancer cell from repairing itself and re-growing.
Olaparib is approved for use in patients who have relapsed ovarian cancer that continues to respond to platinum-based chemotherapy (such as carboplatin or cisplatin). This trial will also examine whether olaparib works in patients with ovarian cancer that no longer responds to platinum drugs and who have inherited genetic changes (a BRCA mutation).
For a cancer to grow, it needs its own blood supply to develop. Cediranib is a new type of drug that blocks cancer from developing its own blood supply, and this may help to slow or stop cancer growth. Cediranib is not yet approved for use in the UK and is considered experimental. Across the world, more than 5,800 patients have been treated with Cediranib in clinical trials.
Cediranib and Olaparib work in different ways to have an anti-cancer effect. A recent trial in patients whose ovarian cancer has recurred, has shown that the anti-cancer benefits of cediranib and olaparib are enhanced when these drugs are taken together.
If you would like to know more about the medication involved in the trial and the possible side effects please contact your oncologist.
Will my participation in the trial be kept confidential?
Yes. We will follow ethical and legal practice and all information about you will be handled in confidence.
Information collected about you during the trial will be kept at the OCTOVA Trial Office, which is part of the University of Oxford. This information will include your initials and date of birth taken from your medical notes, and is strictly confidential. Your trial record will be identified by a unique trial number and your personal identify will not be identifiable from this number.
Responsible members of the University of Oxford or the NHS Trust where your treatment is based, as well as the UK regulatory agency the MHRA, may be given access to data for monitoring and/or audit of the trial to ensure we are complying with regulations.
The results of the trial will be shared with the pharmaceutical company AstraZeneca (the drug manufacturer), and may also be shared with other groups in the UK and across the European Union. However, your data will only be referred to by a unique trial number, and it will not be possible to identify you.
Anonymised data may also be presented outside the European Union, and these areas may have fewer rules about data protection. The Sponsor will make every effort to ensure your anonymised data is adequately protected.
Details about you, your treatment, any side-effects you have, how the disease responds and how you are during and following trial treatment will be recorded in your medical notes at your hospital.